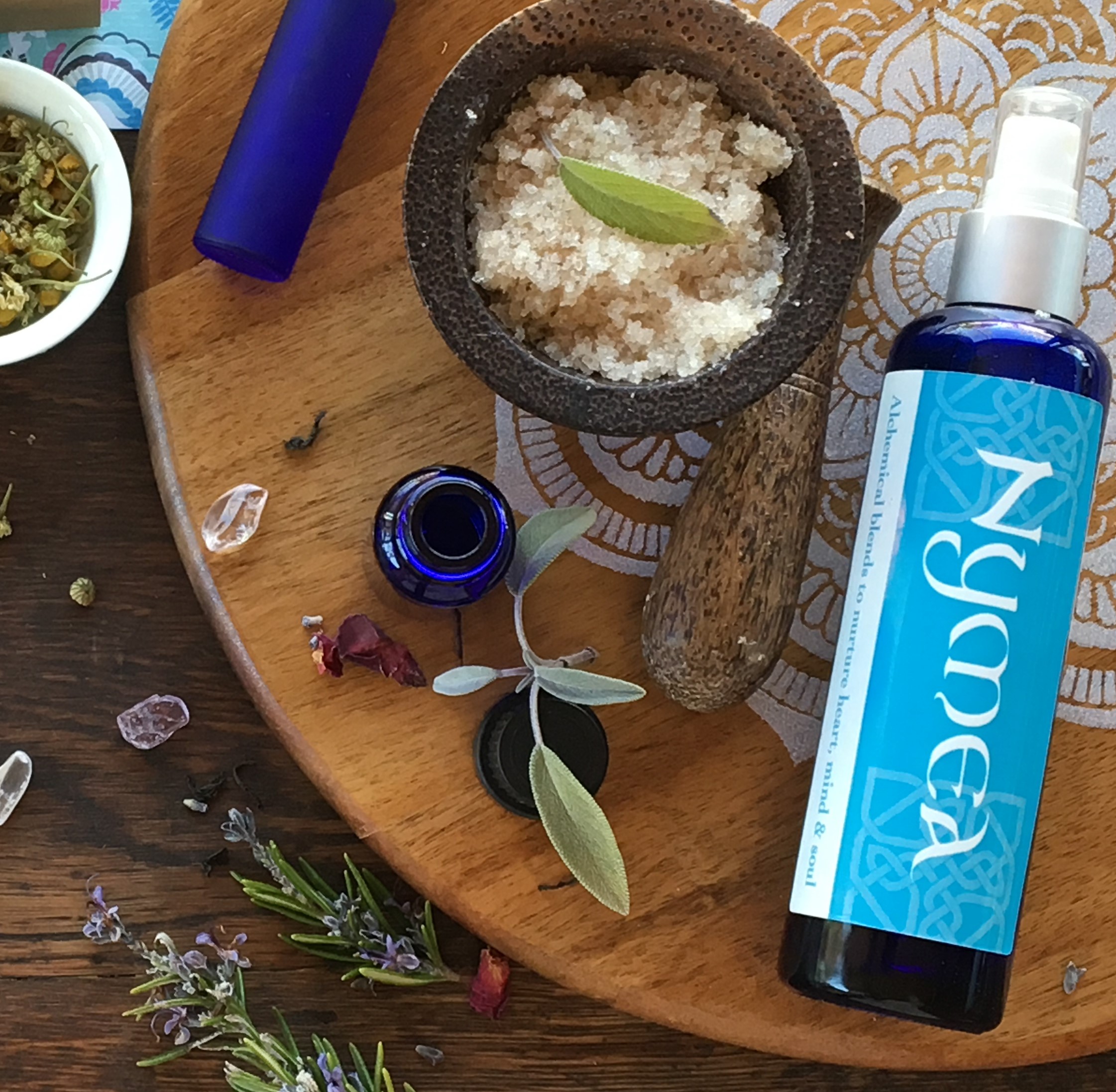 The Beginnings of an Essential oil enthusiast (ok maybe bordering on obsessive)
These beautiful medicinal products of nature have been a constant in my life since around 1994. I first discovered the benefits of essential oils while studying massage and have used them ever since for their physical attributes, later also studying Aromatic Kinesiology where I discovered their less tangible properties although equally as effective. With the emergence of multiple essential oil companies hitting the market over the last ten or more years combined with a plethora of information floating about, I decided I needed to know the total ins and outs of what is safe and what is potentially unsafe. And so in 2018 I completed an Advanced Diploma in Aromatic Medicine.
This is really just to let you know that for the most part I have a reasonable idea of what I'm  doing :/
 I started the Nymea Range of products in 2011 with the intention of assisting people on an emotional level and in turn assisting the physical body. They contain a blend of essential oils, floral water and essences of liquid crystal and/or Australian Bush flowers.
Slowly I am adding other products to the range including pulse points oils, Baby Care range and salt scrubs.
I'm an advocate for the finest grade essential oils regardless of brand and use Organic when possible. Each oil has been carefully selected due to their personal attributes rather than by brand.
The Nymea Range - Alchemical blends to nurture heart, mind and soul

Grounding and Clearing – a blend of Sage, Juniper, Sandalwood, Vetiver and Cedarwood combined with Liquid crystal and Australian Bush flower essences. Allows you to ground yourself when feeling hassled or overwhelmed. Perfect to clear a space in your home or healing area.   
Key words are detoxify, purify, strength, dispel negative thought patterns, remove fear, back to centre, sustain, re-establish, transmute fear, protection, realigns, stand in personal power, cleanse, stillness, assurance, wise, ritual, shedding and electromagnetic energy. 
Available in Spray, Oil Blend (comes with a Black Tourmaline Crystal) and Salt Scrub
Love, Peace and Harmony – a blend of Organic Palmarosa Floral Water, Ylang Ylang, May Chang, Myrtle, Sweet Orange, Bergamot and Fragonia with Liquid Crystal and Australian Bush Flower essences
Perfect for when you just need a hug!  Calms the nervous system and lets yet take a few moments to regain peace.   
Key words are light-hearted, nurturing, inner child, freedom, encouraging, dispels anger, joy, confidence, empowerment, uplifting, enthusiasm, harmony, balance, softening, kindness, self-trust, dignity, regain courage and passion, peaceful, breaking old patterns, celebrate, mindful, reflection, smile.
Available in a spray, Oil Blend (comes with a Rhodochrosite Crystal) and Pulse point roll on
Inspiration – A blend of uplifting and inspiring essential oils Lime, Lemongrass, Peppermint, Fennel, Black Pepper, Sandalwood, Frankincense with Liquid crystal essences
Nurturing life changes to promote spiritual and mental healing
Keywords – Focus, study, inspiration, remove mental constriction, uncomplicated, imagination, purpose, shift thought, optimism, clarity, embrace change, re-energised, revive and completion of tasks
Available in Spray, Pulse point and oil blend (Includes a Fluorite crystal)     
Calming – A blend of lavender, helichrysum, roman Chamomile, Sweet marjoram, sandalwood, ylang ylang and vanilla and Liquid crystal essences
Sanity in times of turmoil, nurturing and relaxing
Keywords- emotional balancer, self-care, release of self judgement, soothed, de-stress, strengthen nervous system, calm obsessive thinking, relaxation, reflection, sweet dreams, contentment, acceptance and mindful
Available in Spray, pulse point and oil blend (includes a red jasper crystal)
Spirit – a blend of Geranium, Vetiver, Clary Sage, Frankincense and Blue Yarrow with a custom made crystal essence, combined with other vibrational essences. Made with the intention of connecting to your soul, to remember your purpose while still being grounded. To move into your lightness while remembering your darkness without fear.  Contains elements of Egyptian feline energy and also of the Crow and Kookaburra.   
Key words are connection, divine guidance, clarity, clear sight, angelic messenger, auric healing, access to past wisdom, emotional balance, intuitive perception, heart-mind-body relationship, grounded knowledge, yin/yang, assurance, sense of unity.
Available in a Spray, Oil Blend (comes with a Tibetan Quartz crystal) and Pulse point roll on
Protection – A blend of Cedarwood, Eucalyptus, Jasmine, Lemon, Lemongrass and Tea Tree with a custom made Crystal essence, Liquid crystal and Australian Bush Flower essences
Using the protection blend is more about holding your own energy and not being pulled out of alignment by others, allowing you to be unaffected by your surroundings. Establishes boundaries where you can speak freely with love and respect.
I often recommend this blend after a cord cutting ceremony to help re-establish personal boundaries.    
Key words are insulation, encapsulation, trust in self, integrated thoughts, personal power in action, psychic protection, tolerance, immunity, rational, allay fears, expanded, shift, self-mastery, healthy boundaries, joy, revitalization of physical and energetic bodies, rest from fatigue and attack.
Available in a Spray, Oil Blend (includes an Apache Tear crystal) and pulse point roll on.

Muscle soothe – a blend of anti-inflammatory essential oils to assist in relieving muscle aches and pains (of course if pain persists please see your doctor) contains Lavender, Marjoram, Rosemary, Roman Chamomile, Black pepper, Juniper and White fir with Liquid crystal essences
Keywords – while this oil blend is primarily for physical conditions it may also be helpful for emotional and mental aspects of ourselves as well. Keywords are release tension, detoxify, purify, cleanse, clarification, nurturing, self-care, strengthening to nervous system, reduce over thinking, chakra system alignment, may assist in dissolving old emotional patterns caused by fear, grief, sadness and heartache.
Available in roll-on, oil blend (includes a Blue Apatite crystal) and coming soon Magnesium blend
Anxiety – A blend of Cardamom, Myrrh, Sweet Orange, Neroli,  Lemon Balm extract, and custom made crystal and flower essence, Liquid crystal and Australian Bush flower essence.
I initially made this blend to help myself through anxiety, not the anxiety that comes just before a speech or job interview (although this will still help) but the anxiety that comes when you least expect it and your whole body reacts to a stimuli that isn't techniqually real  but feels very real, your breathe shortens, heart races and dread fills your mind and your whole being. In my case my body needed to be retrained to not react to a stimuli that no longer existed.
A breathing technique that helps with anxiety is sometimes called Buddha belly, and requires you to breathe into your stomach. Place you hand over your stomach and breathe deeply, try and push your hand outwards with your tummy. Be aware if your shoulders lift up, this is a sign you're breathing into the top of your diaphragm rather than your tummy. Whenever you feel anxiety rising spend a few minutes practising this method. 
This oil blend can be a tool to  assist you however you may need to also look at other techniques such as Yoga, exercise, massage, kinesiology, energy healing, meditation, counselling, diet, sitting in nature, etc. Everyone is unique so it may be something else that may make the difference for you.
Key words are calm, stabilizing, balancing, over thinking, worry, nervous exhaustion, burdened, weighed down, contentment, inner stillness, peace, laugh, reshape life patterns, emotional renewal, empowered choices, optimism, hope, positive opportunities, strength, appreciation, gratitude, grace, release worries, fear surrounding loss of control, physical pain for no apparent reason, nurtured emotional flow.
Available in Spray, Pulse point and Oil Blend (includes a Mangano Calcite crystal)
PLEASE NOTE: if you have feelings of self-harm or complete hopelessness please contact someone.
Phone 000 if life is in danger
Lifeline 13 11 14 lifeline.org.au
Beyond Blue 1300224636  beyondblue.org.au/the-facts/anxiety
Other links click HERE
Disclaimer – this is just general information and not in any way meant to be used for medical diagnosis or treatment
Baby Care Range of Products
I initially started making these products for my daughter's children and her friend's children and they worked so well I decided to add them to the Nymea range.
Other children's blends that are available by request on a case by case basis are Cradle cap remedy and Chest rub for coughs and colds.  

Baby Talc – a natural alternative to talcum powder – Contains a gentle white Kaolin clay perfect for sensitive skin, Tapioca powder which adds lightness to the blend, Sandalwood powder, Calendula CO2 extract, essential oils of Lavender, German Chamomile and Australian Sandalwood. Also contains Starchild crystal essences. To use sprinkle a small amount on baby's bottom.
It can also be used on adults instead of talcum powder.

Baby Bottom Balm – A gentle and calming balm containing natural unbleached Beeswax, Shea Butter*, Cocoa Butter*, Macadamia oil*, Jojoba oil*, Calendula infused oil*, Rosemary CO2 extract (preservative) Lavender, Roman Chamomile and German chamomile (* denoted organic).
Apply small amount of balm to baby's bottom when needed.

Baby Massage oil – suitable for mild pain in children associated with digestion, teething or general discomfort. Contains jojoba oil* Calendula infused oil*, Lavender, Mandarin, Roman Chamomile, German Chamomile, Neroli and Starchild crystal essence.

Of course care should always be taken with infants and children – take care to prevent infants from inhaling and ingesting, avoid face and hands and discontinue use irritation occurs.
Skin Soothe
I initially made this one for my children to help soothe sunburn; I then discovered it is helpful for skin irritation caused by rashes, bites, eczema and radiation burns. I also have clients using it for a light moisturiser on sensitive skin around their face and neck.
A blend of double strength Aloe Vera gel, Jojoba Oil *, Infused oils of Calendula and Centella, Extracts of Cucumber, Green tea and German Chamomile, Co2 German Chamomile and Rosemary, Essential oils of Lavender, Roman and German Chamomile, Crystal and flower essences
©Lorraine Gardiner