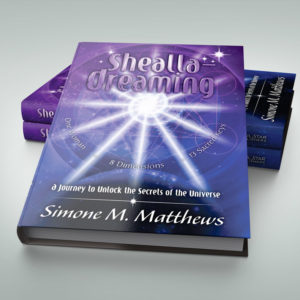 Have you recently bought yourself a copy of the book 'Shealla Dreaming' by Simone M Matthews?
If you have then you will have a password which will enable you to receive your gift.
If you haven't bought a copy, but would like to know more, read the following or click on the link below
Shealla-Dreaming
Shealla-Dreaming (pronouced 'SHE-ARH-LARH) is the new book by Simone M. Matthews, the founder of
UniversalLifeTools.com
..
The book brings together over 20 years study of metaphysics, quantum physics, crystalline energy, indigenous wisdoms and the divine teachings of the ancient civilisations of Lemuria, Atlantis, Egypt and the Maya.
The book is about Sarah Martine, a sassy thirty-something women who has been living in New York City and fast-tracking the corporate ladder. After returning to Australia to attend the funeral of her best friend Mischa, Sarah synchronistically finds herself enmeshed in a thrilling journey of awakening. Set within the sacred lands of Eastern Australia, Sarah embarks on a voyage of discovery to unveil the most cherished wisdoms of our ancient ancestors - the 13 Sacred Keys of Creation.
The 13 Sacred Keys form a map, a map that unlocks the secrets of the universe, the secrets that the mystics, sages and monks have revered throughout the ages of time. These keys are principles of evolution and the foundations upon which the entire cosmos evolves.
The book guides the reader through the 8 Dimensions of our galaxy, to facilitate the awakening of each Sacred Key within your life. You will discover how your dreams seed the discovery of your greatest passions, ignite your highest aspirations and transcend the perceived limitations of your physical world through the power of LOVE.
http://www.universallifetools.com/shealla-dreaming/about-the-book/
FREE GIFT- 30% off a full Crystal Consultation (normally $120)
All you need to do is send an email supplying your name, preferred return email address and password to This e-mail address is being protected from spambots. You need JavaScript enabled to view it
I will then send you a paypal invoice and upon payment you will recieve a detailed report via email.
What you will receive
A full outline of which crystals may be of benefit to you at this moment in time.
The emotions or issues surrounding these crystals
How to use these crystals in your everyday life
Warm regards
Lorraine